So yeah, behind the cut, photos. And a video. They may be big, sorry.


Oh and I have to complain a little more about the phone. Some photos I know I took, just aren't there. I know why too, I discovered it late in the day... sometimes when you press the take photo button (the physical one on the side of the phone as opposed to the virtual one in the screen) it feels like it pressed, but it doesn't 'take'. And if you're not careful, you can not realize that and go away thinking you had a lovely photo only to have nothing. Oh well.

Let's start with the most horrifying picture of all... me.



God, my hair looks horrible. It's in that awful state of 'not slicked back totally wet from the short but not dry either.

Now, a generic blurry crowd shot (taken while walking):




That white table in the middle is the celebrity section. That black curtain in the middle of that table? Behind that is the shy and reclusive Nathan Fillion.




This is the Mal cosplayer and the Cardboard Dalek. I didn't get a good shot of the two of them interacting.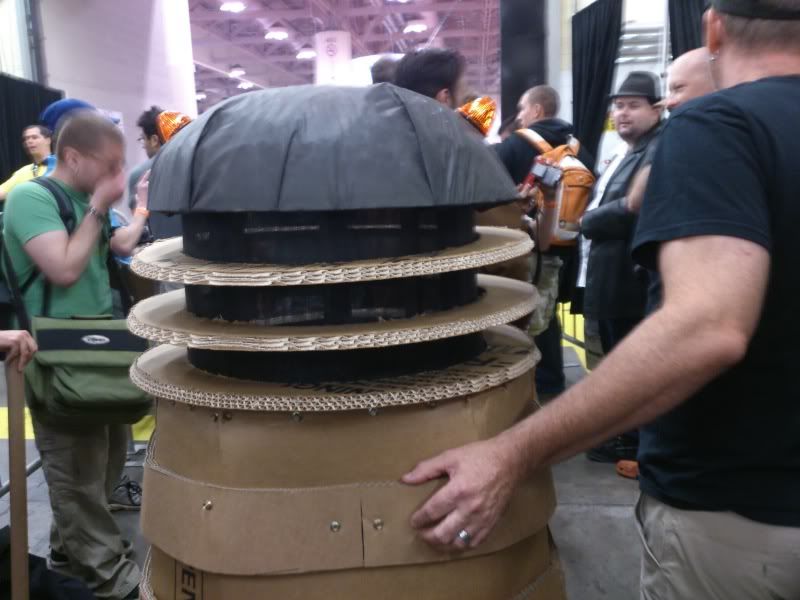 Cardboard Dalek guided by his creator.




The Matt Smith cosplayer who hung out by the Tardis set (maybe owned/operated it, I never did find out)




The Phoenix is in the TARDIS! I could have sworn I got a better shot of her where you can actually see the front of the costume but I think that was one of the 'button-no-worky' ones. :P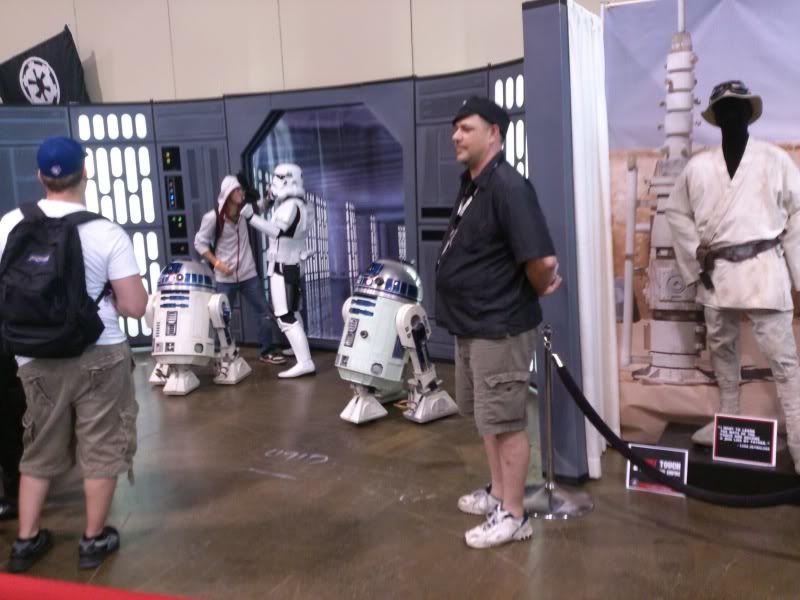 One of the 'get your picture taken in a posed set' things, Star Wars themed this time.




Avatar Aang from Avatar: The Last Airbender, helped ran a little shopbooth but seemed to enjoy posing.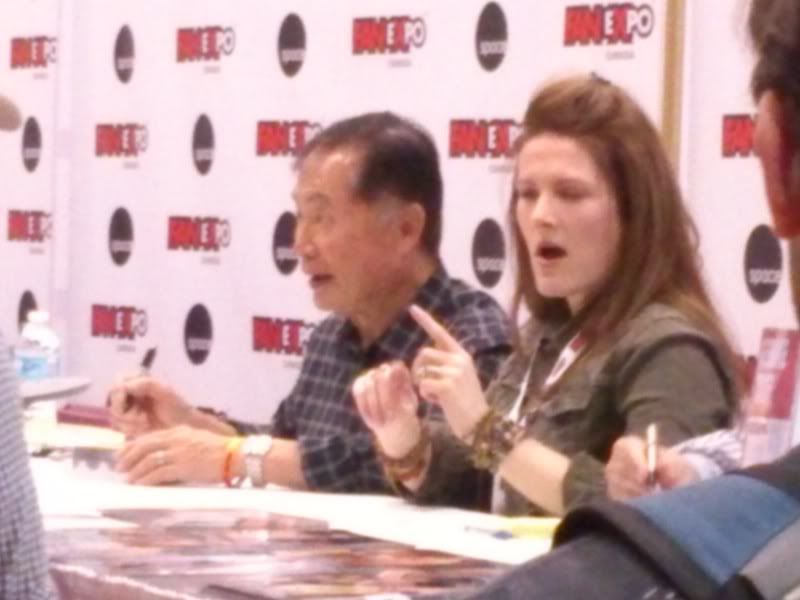 It's George Takei, dammit! Little fuzzier because I had to use zoom on this one. And apparently I caught the girl beside him in the middle of a cheeky wink. Oh my!




Flash, Scarecrow, and... I'm not sure if that was Batman or somebody else. Picture low cause I was sitting against a wall, and of course, somebody got in the way a little at the last second.




Avengers posing with a boy in a wheelchair. Again, could have sworn I took a few pictures of this, from better angles, but this is the only one that showed up. :P




More celebs! Walking Dead's Michael Rooker (Merle Dixon) greets his co-star Steven Yeun (Glenn)




Merle's brother Daryl (Norman Reedus)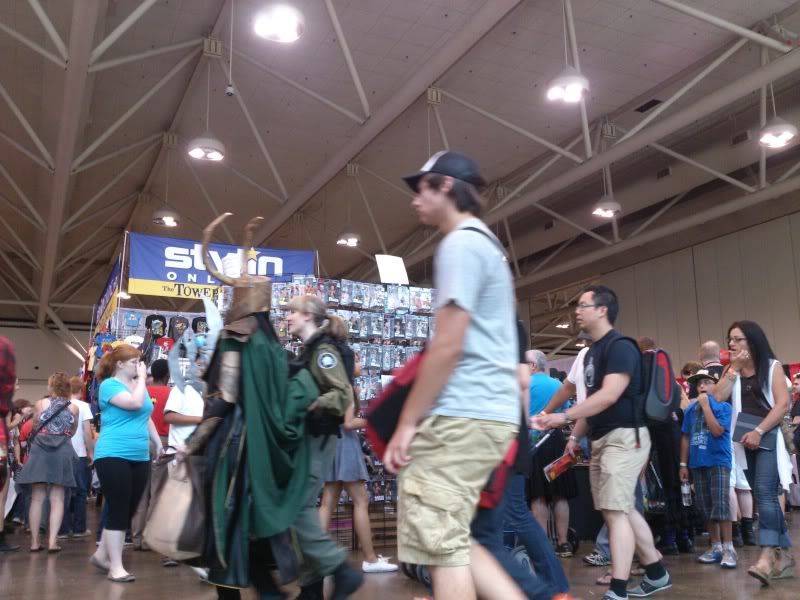 Let's call this a crowd scene, but that Loki and the Stargate officer were friends I saw a few times together but I never managed to get a better picture than this.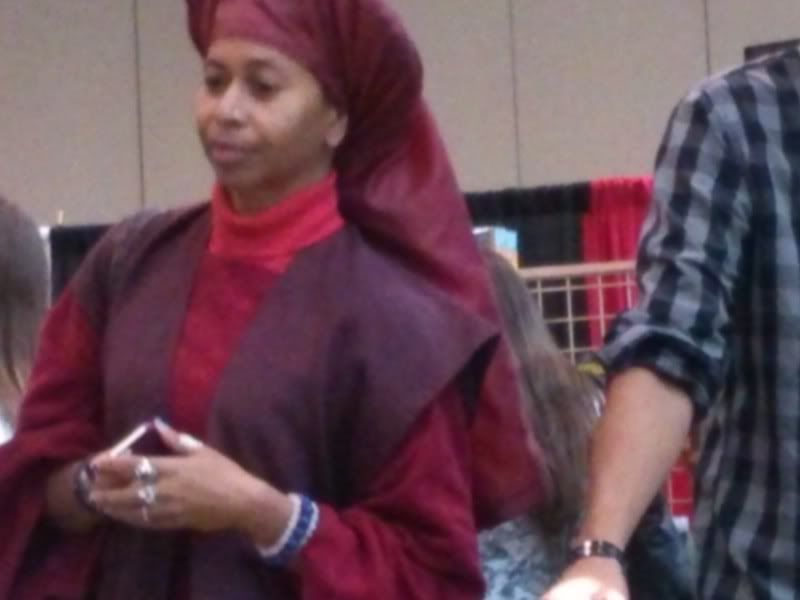 Guinan, spending a little bit of time outside of Ten Forward.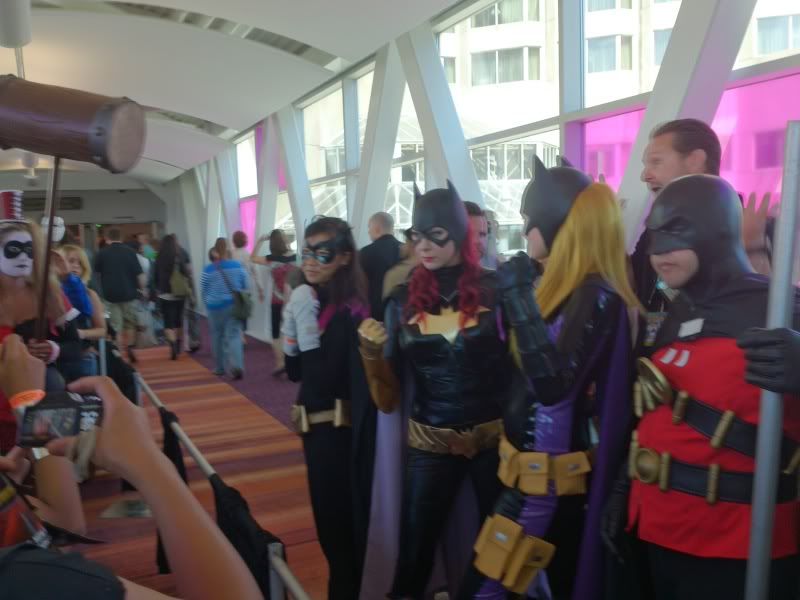 Some Batman Family characters. I admit, I originally only snapped a pic because it was Stephanie Brown Batgirl (in the purple), my second favorite Batgirl. I'm not sure if the girl who got in the third pic is intended to be my favorite Batgirl Cassandra Cain (albeit in a Black Bat costume that I'm not entirely sure what it looks like these days), or just happened to be Asian and going as another Batgirl, but I could pretend it was three different incarnations of Batgirl together (along with Red Robin), so I took another pic.

I didn't even notice Harley Quinn with the huge hammer looking like she wants to attack until I was posting these pics.




The walk between two different buildings was long enough, but when you're doing it behind a processions of imperial stormtroopers, it takes even longer (but is slightly more entertaining).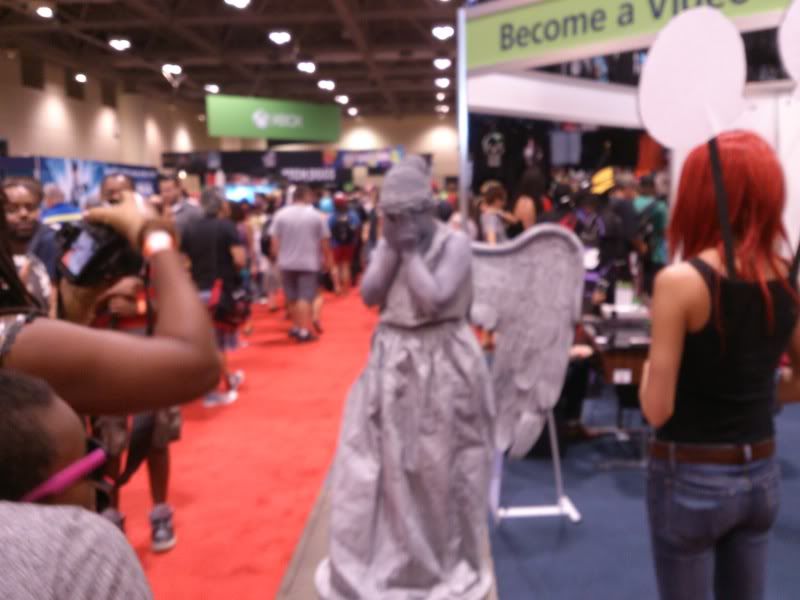 A weeping angel! Don't blink!

I took several pictures in different positions, but, guess what? Only one of them actually saved. Stupid button.

However, I also thought ahead and brought a magic camera app to see the rarest of treasures... a weeping angel in motion! Link because I think trying to embedd broke LJ and cut off all my pictures after it: Video

One of the rarest of treasures.




Blue Beetle (the new one), really excellent costume but this is the only pic that turned out.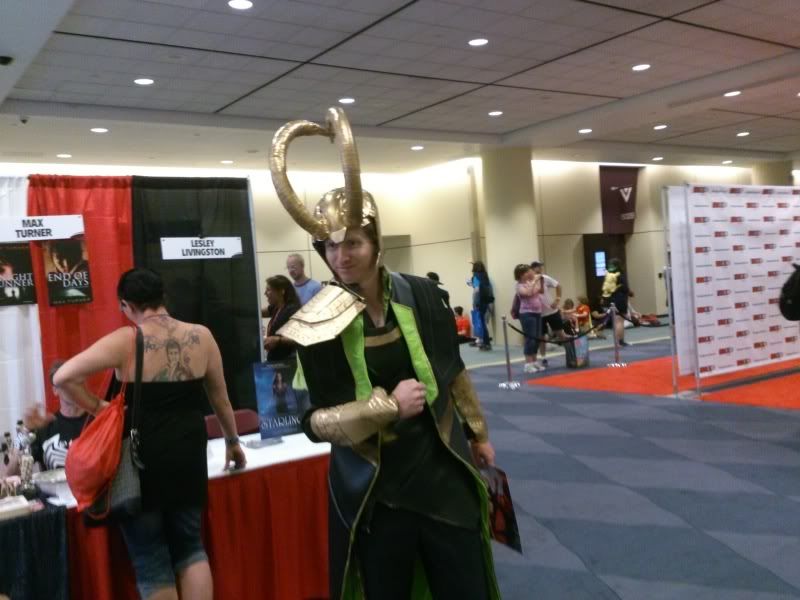 Loki. There were a lot of Lokis this year.




What did you DO, Ray? It's the Stay Puft Marshmallow Man, terrorizing some kid (Hidden by Lara Croft).




Pixie from the X-Men. Best pic I could get of her, every time I tried to get closer she just sat down again and I feel bad asking for a picture for someone who's sitting down and relaxing. You can also see Charles Xavier in the BG. The guy pushing the chair (Who you can't really see and might have gone to the bathroom or something at the moment this was taken) is Magneto.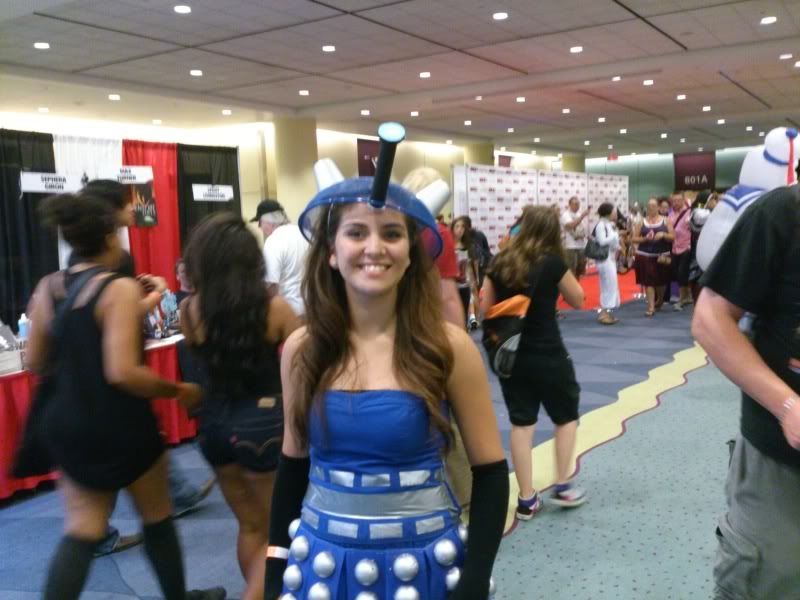 There were a lot of humanoid daleks at this con, but this was the cutest! Well, okay, that may not be true, there were a lot of cute ones, but this was one of them, and the only one I seem to have successfully photographed.

If you're wondering, based on my previous comments, no, this is not the humanoid Dalek I was in line with, never got a photo of her... like with Mal, it feels weird and awkward to me to ask for a posed pic of someone after you've talked to them for a while. It's one thing to do it before, or happen to get them when they're posing for someone else. But, whatever ,it's probably just me, there are a lot of things that feel weird and awkward to me that don't make sense to anybody else.

Regardless, this was a cute Dalek.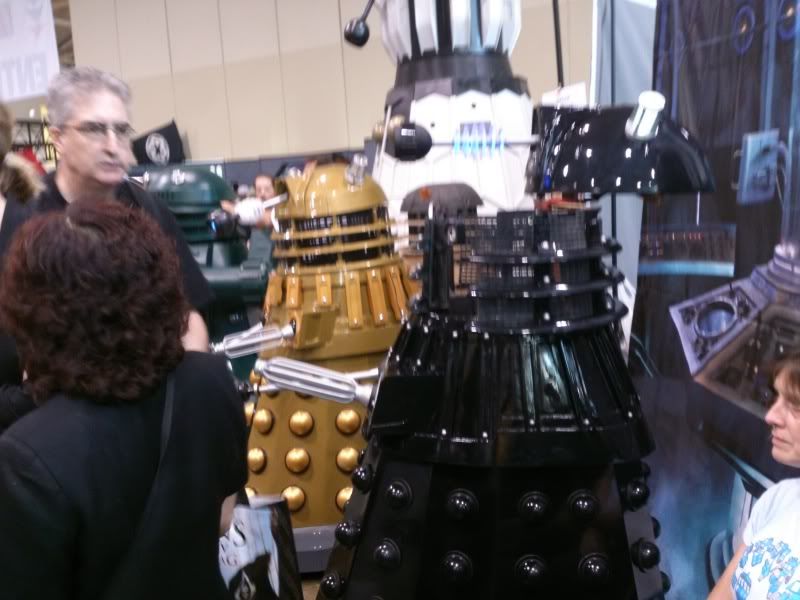 Here are some less cute Daleks as they started to invade and surround the Tardis console area. Extremely well done, and the tank-looking one with the arms was even motorized.




Catwoman and Riddler girl... possibly Mother and Daughter... in fact, when I first saw these two they were with a Batman and an even younger Robin... I got the impression they were a family but by the time I got in camera range they'd split up and I figured I'd get these two and maybe get the group together later... but I never saw any of them again. Maybe one of the 50 Jokers got them.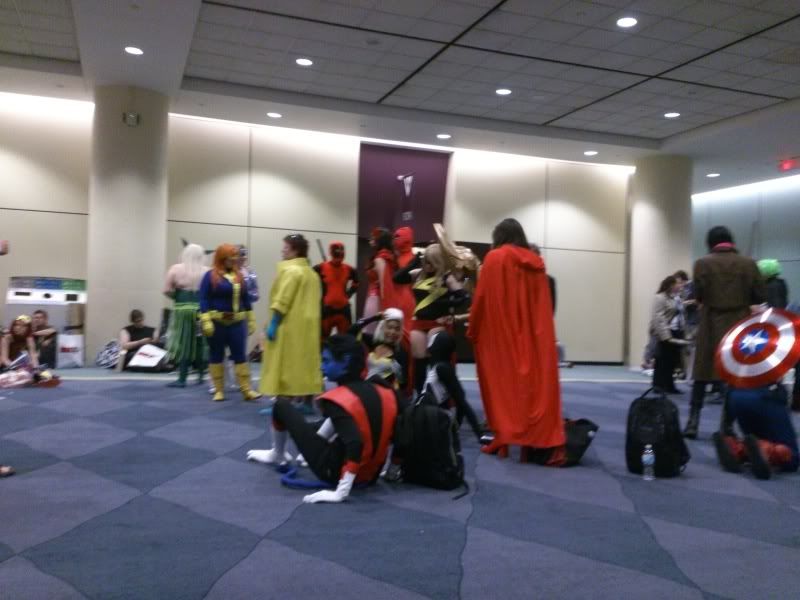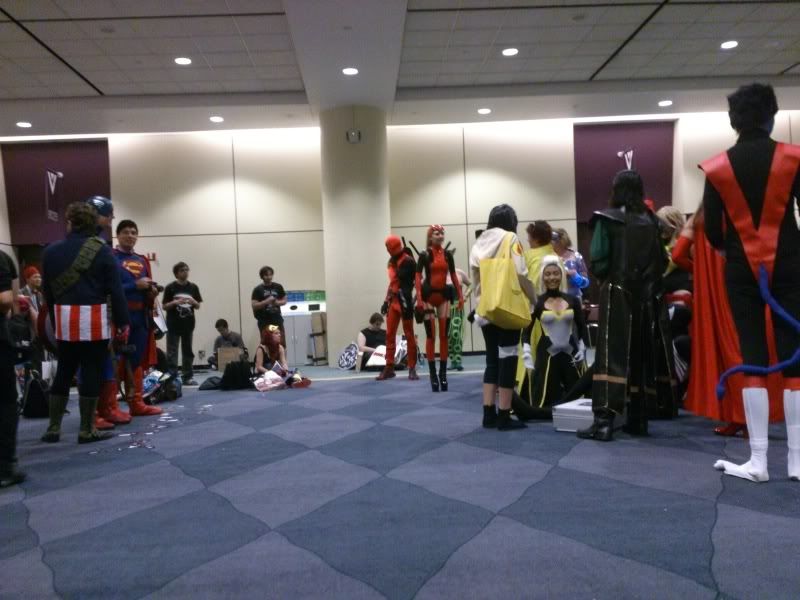 Some Marvel characters (mostly X-Men) just hanging out and chilling. Weird fact, I saw at least 2, maybe 3 female Cyclopses (Cyclopsi?), but not a single male one.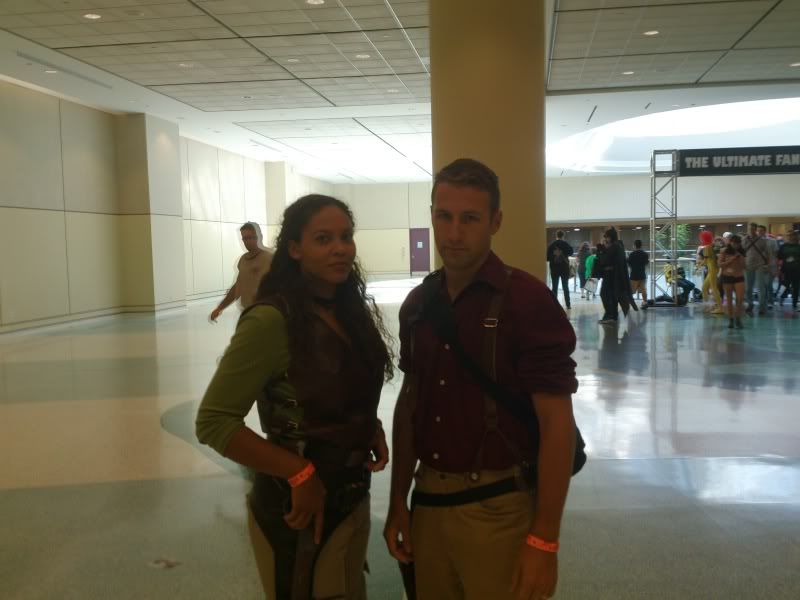 And, finally, I may not have gotten photos of Nathan Fillion and Gina Torres, but I did get a photo of their characters, Malcolm Reynolds and Zoe Washburne! (Again, not the Mal I spent time in line with).

So yeah, I still need more practice at cameras.


Edit: Hopefully fixed the deleted other half of the post, grr LJ.